Hamm
is a wise-cracking talking plastic piggy bank with a cork in his belly. He and Mr. Potato Head appear to be best friends, as they are often seen playing games and clapping hands with each other whenever something spectacular happens. Also, Hamm takes a dislike to the chicken mascot of Al's Toy Barn, especially when he later realizes that Al McWhiggin, the mascot and the owner of Al's Toy Barn, as well as the crooked yard sale customer who stole Woody, are the same man.
Toy Story 2
Edit
In Toy Story 2, after Woody is stolen, he and Potato Head set up a crime scene to present Woody's kidnapping to the other toys but Rex destroys their presentation. After helping the toys find the Al's Toy Barn commercial on TV, Hamm, along with Buzz, Potato Head, Rex, and Slinky go on a mission to rescue Woody from Al. It is during that mission when he displays embarrassment after his cork falls out, requesting no one to look until he gets it back in. The following day, he is the first to spot Al's Toy Barn right across the street. During their search in the toy store, Hamm spots a group of Barbie dolls having a party and asks them where to find the owner of Al's Toy Barn. When Tour Guide Barbie drives the toys into the Buzz Lightyear aisle, Hamm is the first to spot a "Bonus Belt" Buzz (but later, the toys are able to rejoin with the "true" Buzz). After the toys return home, Hamm attempts to beat a "Buzz Lightyear: Attack on Zurg" video game that is previously tried by Rex, but fails and switches the TV channel in frustration, only to witness a sobbing Al in the commercial for Al's Toy Barn; this satisfies Hamm very much. His voice is performed by John Ratzenberger, who has a voice part in every Pixar film. Hamm looks to be modeled after the pink plastic Piggy Bank by Little Tikes. Hamm is a playable character in the Toy Story Racer Video Game.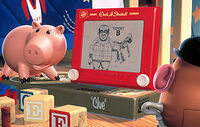 Ad blocker interference detected!
Wikia is a free-to-use site that makes money from advertising. We have a modified experience for viewers using ad blockers

Wikia is not accessible if you've made further modifications. Remove the custom ad blocker rule(s) and the page will load as expected.